Akwa Ibom Isongo!
E me di o!
Countdown to the 1st Joint BOT/National Council Meeting
(Phoenix, AZ) - (11/11/16)...
---
---
Press Release:
Obituary: Obong-Anwan Alice Akpan Equan
(Posted: October 24, 2016)

With deep sense of respect for the departed, total submission to the will of God, and heartfelt sympathy to the dear family of the Equans in Nkim Itam, Itu LGA, Akwa Ibom State, we, the people of Akwa Ibom descend living in the United States of America and Canada would wish to use this medium, after getting permission from the family, to announce the passing on to glory of our dear mother, wife, sister, and grandmother, Obong-Anwan Alice Akpan Equan of Nkim Itam who went to be with the Lord on 10.19.16.

She is the mother to the Hardest Working Man in AKISAN, Period, Hon. Uwem Eyo Equan of the Great Charlotte Chapter of AKISAN.

Continue Reading >> (PDF)
---
Press Release:
AKISAN National Council Meeting Notice
(Posted: October 16, 2016)
Dates: November 11th - November 12th, 2016


Venue: Sheraton Phoenix Airport Hotel Tempe, 1600 S 52nd St, Tempe, AZ 85281 (Map)
Reservation Phone Number: 1-800-325-3535
Online Reservations: N/A
Hotel Reservation Code: AKISAN November Meeting
Hotel Reservation Cutoff Date: TBA
Hotel Rates: $119/Night (Single & Double Occupancy), $129/Night (Triple Occupancy), $139/Night (Quadruple Occupancy)

For more information, contact the PRO, Mr. Aniekeme Udofia (+1-703-587-9827) and/or visit the council meeting's official page...
---
Press Release:
Miss AKISAN USA Fundraiser
(Posted: October 10, 2016)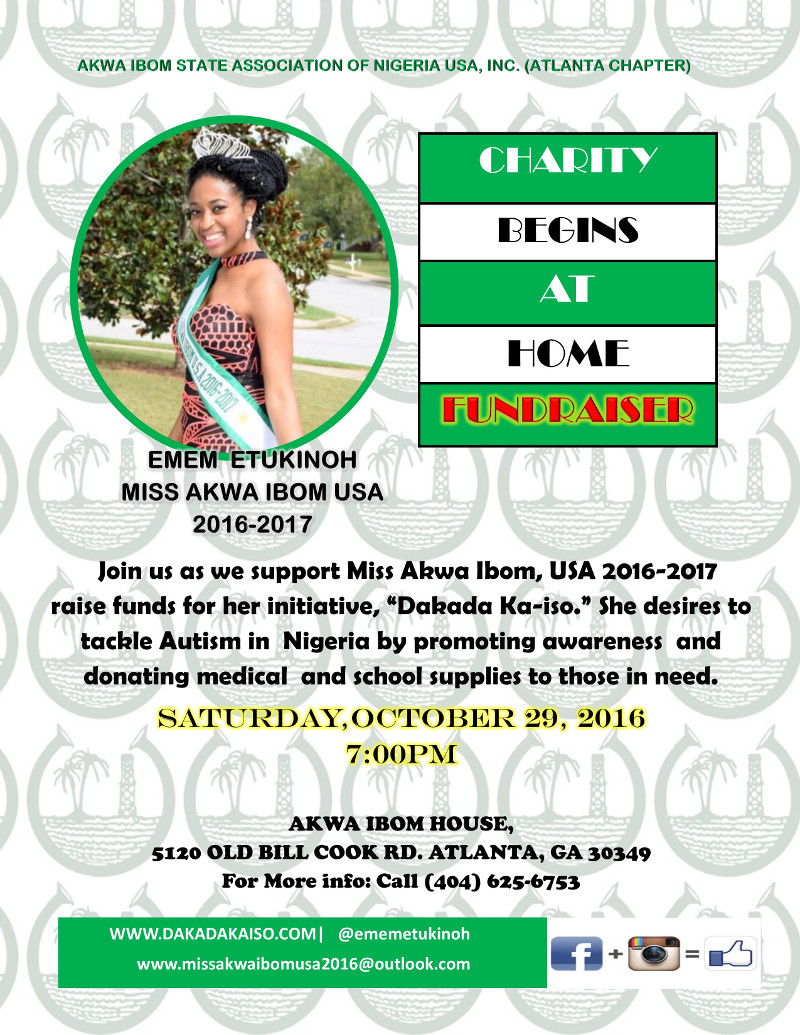 Join us as we help Emem Etukinoh, Miss Akwa Ibom USA (2016-2017), raise funds for her initiative, "Dakada Ka Iso". For more information about Ms. Etukinoh and her projects, visit her website, www.dakadakaiso.com
---
Press Release: SHELL Graduate Internship Program 2016/2017
(Posted: October 4, 2016)
For all Engineering/Geoscience/Geology graduates done with NYSC, 28 years of age and below.

Send your CV to NCD-events@shell.com.

Kindly pass this information to others. You may not need it but someone else might...
---
Press Release:
Meet the 2016-2018 National Executives, "Team UkaraAbasi"
(Posted: September 16, 2016)


Living in diaspora and feeling "disconnected" even in the midst of your people could be one of the most traumatic experiences any individual can go through. Having distrust amongst your brethren could be as disheartening as any vocabulary can describe. Not feeling loved and appreciated for all your salient sacrifices could be as frustrating as finding a needle in a haystack. Therefore at a time as this, God has raised a dynamic group (TEAM UKARAABASI) to shine the light of hope and bring us to the next level; where everybody is somebody and no one is a nobody.

Continue Reading >> (PDF)
Meet your new Executives (Photos & Bios)
---